Hotel: The Leopold
Location: Sheffield city centre, which makes the transport options plentiful. If arriving by train then you can either walk or take the Supertram. On foot it takes 15 minutes while there is a Supertram stop less than 2 minutes' walk from the hotel door. If you are driving then the Leopold also offers discounted rates at the close by Q-park.
Highlights: Upon arrival at the hotel desk, I was immediately greeted by a member of staff and swiftly checked in (my room number being discreetly passed to me with my key card). After being shown to the lifts, I made my way up to the second floor, and my room.
My room, quite simply, was stunning. I could have happily spent a week there, and was saddened that I was only booked for the one night! The room was in fact a mezzanine suite, with the bathroom and living area on the floor as I walked in, and the upper bed deck accessible by a set of stairs. It was wonderful to have the extra space, and made going up to bed more of a luxury than simply rolling onto it straight from working at the desk.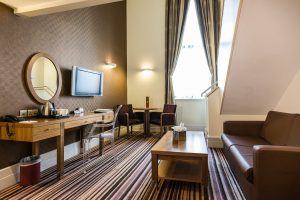 The room was also filled with many little luxuries and complimentary amenities: chilled water in the mini-fridge and beside the bed; a wide selection of hot drinks including breakfast tea, earl grey, a range of herbal flavours, and hot chocolate; a Nespresso machine; biscuits; and a personalised welcome letter on the dresser. This thoughtfulness was continued in the bathroom: a hotel waffle robe hung on the back of the door (slippers upstairs on the bed), and on the sink a selection extending beyond the usual soaps and gels including a toothbrush-and-paste pack and a razor. The toiletries were exceptional: sweet-smelling concoctions by Rituals.
I decided that a room so fabulous deserved my time and attention, and I opted to order room service for dinner. The Leopold has an extensive and varied menu of starters, mains, sandwiches, salads and desserts, all of which can be taken in the lounge bar or in your room. While waiting for my meal of pan fried chicken breast and gratin dauphinoise, I set my laptop up on the free WiFi and settled in to do a bit of work.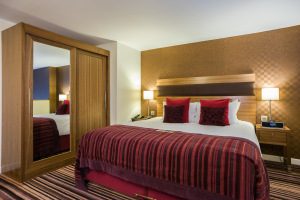 Half an hour later there was a knock on the door, and my food was delivered (by a female member of staff as their Lone Female Guest Policy promises). It was delicious and, once devoured, it was high time to sample a cocktail. On my way to and from the lounge bar I also took the stairs, which afforded me a glimpse into the hotel's past: a former Grammar School and then Sheffield's Central Technicolour School, the hotel has embraced its history and adorned the walls with black and white images of past pupils and teachers.
I went to bed thoroughly relaxed and found the king bed to be so spacious and comfortable that I was loathe to leave it. But it was time for breakfast! Served in a brightly-lit breakfast room (or delivered to your room on request), with the TV on and the staff waiting to seat you and take your hot food orders, it set the morning off to a lovely start. The Leopold offers a full English breakfast menu, and a continental breakfast buffet that runs the length of the back wall. I helped myself to yoghurt and fruit while waiting for my poached eggs and vegetarian sausage, while tea and toast was delivered to my table. With such a selection on offer – including catering for allergies and special diets – at breakfast you are spoilt for choice.
Check out is at 11am. Until the dreaded time rolled around I made the most of every moment in my room, and made a promise to return to the Leopold (if only to purchase one of their very comfy branded robes!).
Why go: As a 4* boutique hotel, The Leopold is both elegantly sophisticated and homely, with close attention paid to making the guests as comfortable as possible. You'll leave feeling thoroughly cared for!
Insider info: The hotel backs onto Leopold Square, which contains a number of restaurants and bars – such as Wagamama, Strada and The Botanist – and hosts live music and events throughout the year. Have a drink at the Leopold lounge bar and terrace which opens onto the square (the City Breeze cocktail comes highly recommended!) and then have the desk staff make you a reservation.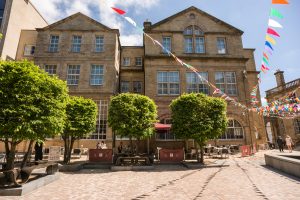 Maiden-voyage.com offer: When booking directly via the Leopold website enter promo code "73209729" to receive 10% off the best available rate, a complimentary welcome drink, and 10% off bar food during your stay.