As part of our  Land Yourself an Amazing flight campaign, Dr Jim Hampton from Isobar Compression checked in to educate our community on the risks of Deep Vein Thrombosis (blood clotting in deep veins) and the best ways to prevent them during flights.
Q. How big of a risk are DVTs?
A. I fly regularly and see lots of people sleeping on long-haul flights, not leaving their seats for long periods and without wearing flight socks. If those travellers knew the risk of DVT on long-haul travel, they'd probably think twice about how they invest in their travel health. We commissioned a survey with poll experts YouGov[3] and found that:
34% of UK adult women surveyed planning to take a long-haul flight said that they are concerned with DVT
Just 30% said that they would wear compression socks to minimise their risk of DVT on their next flight
These results show that female travellers are putting themselves at unnecessary risk of potentially life-threatening DVTs because they either believe they are not at risk or are too young for it to be relevant to them.
Q. So why are the risks higher for female travellers?
A. The risk of DVT can be higher for those with a recognised risk factor, with some being relative to women such as pregnancy or the contraceptive pill; some contraceptive pills triple the risk of blood clots. Tall (≥168 cm – 5ft 6ins) and obese women have an almost three-fold increased risk, while existing venous conditions, such as varicose veins, also increase the risk. If you have any of these risk factors, have had recent surgery or have a genetic history of venous conditions, you should speak to your GP before flying.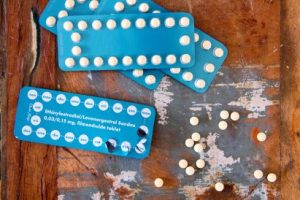 DVT Stats:
13 million people fly long-haul from the UK (over four hours) every year1[1]
4% of flyers taking a 4 hours+ return flight within a month suffer a blood clot without any symptoms
This rises to 10% among the over-50s
Women who are pregnant or on the contraceptive pill are at heightened risk
Meta-analysis by the Cochrane Centre[2] has shown that flight socks cut the risk of blood clots by 90%
Q. What are some ways to prevent DVTs?
A. It is recommended that long-haul passengers regularly move about on the plane to encourage circulation, to stay hydrated and the NHS recommends wearing well-fitting compression socks.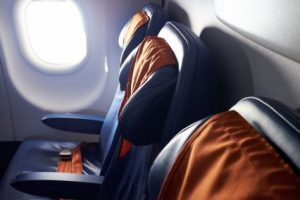 Q. Compression socks aren't always very comfortable which can sometimes put people off wearing them. Is there a way around this?
A. One study actually showed off-the-shelf socks didn't fit 98% of people and for 54% of them, those off-the-shelf socks had a negative effect at times meaning it impeded blood flow. The trouble with off-the-shelf products are the sizes – they are standard sizes and typically have 4 options – small, medium, large, extra-large.
Q. So, how do you really know which size is right for you?
In order to provide the right level of compression in the right area of the ankle and calf in order to promote circulation, we can help you find the best fit. Getting it wrong can be just as risky as not wearing socks at all as no two legs are the same. That's why we work with you to find a personalised fit for your compression socks.
Q. Personalised compression socks? We're intrigued…
A. Isobar stockings are the result of 12 years of medical research and are clinically proven to increase blood return up the leg and reduce leg swelling, resulting in a reduced risk of DVT. We take a 3D scan of each leg and produce an exact-fit graduated compression sock engineered for you. Isobar socks are a perfect fit and the right pressure is maintained after 100 wash cycles so they are a good investment in your health.
Soon-to-be-published research shows a marked improvement in recovery when wearing Isobar socks after exercise too, which is another reason to try them!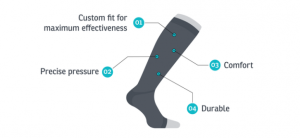 Exclusive Offer for our Maiden Voyage Community
Isobar can visit your business or personal home to take a 30-second scan of your legs. We are offering Maiden Voyage members a 25% discount to buy a pair of compression socks at just £90 – a fraction of the cost of your long-haul ticket but protecting your travel health for much longer. Visit www.isobar-compression.com/offer or call +44 (0) 2476 284041 quoting Maiden Voyage to take up this offer.
[1] Office for National Statistics
[2] Compression stockings for preventing deep vein thrombosis in airline passengers. Clarke MJ et al, 2016 (Cochrane Database of Systematic Reviews)
[3] YouGov Plc. Total online sample size was 2,288 adults, of which 517 expect to take a long-haul flight this year (eg: flight of 4 hours or more). June 2017.