Product Review, by Carolyn Pearson
Last year, I joined a phenomenal group of humanitarians on a private yoga retreat in Sri Lanka and made some new, amazing like-minded Yogi friends.  I was recently very lucky to be invited to spend Christmas with one of my new friends in Israel and Palestine where she's currently completing her latest mission.
As an avid traveller, I like to be well-prepared, so when I asked her what I should pack she yelled 'bring your yoga mat!'  Given that I was flying low-cost with hand-luggage restrictions I knew the chance of that would be highly unlikely.  Not to be beaten, I googled 'travel yoga mats' and that's where I discovered YOGO, an ultra-light travel mat brand.
There YOGO mat comes in Ultralight or Ultra Long and you can choose from a selection of natural hues: Charcoal, Plum, or Forest. The first thing I noticed about my Forest Ultralight mat was the compact size. It folds up even smaller than a picnic blanket, is lightweight and really took up hardly any room in my suitcase.  Because of the travel-friendly size, the portability of the mat is great. I always struggle to maintain my exercise regime when I travel on business, so I can't wait to take it on one of my next trips to give it a try in the hotel bedroom.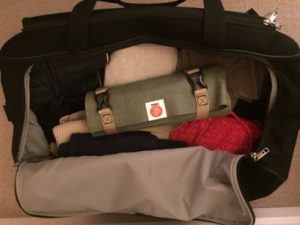 The best thing about the YOGO mat was that it really did the job. As you will see, I was able to continue my practice on the edge of the Dead Sea before taking a dip (or was that a float) to relax afterwards.  The material, natural tree rubber, is surprisingly springy, and grips well which means no slipping about as you often find with poorer quality mats.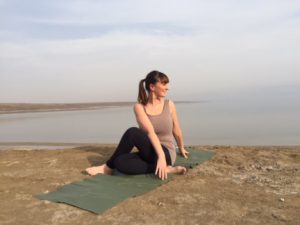 The potency of the salt in the Dead Sea can be harmful to some materials, but the YOGO mat is washable. You simply hang it by its strap under a hose or a shower and leave it to dry, making it super hygienic to use.
And finally, it's always good to buy from a brand with a conscience. What I absolutely love about YOGO is that for every mat sold, YOGO will plant a food bearing tree through its NGO partners in Africa and Latin America.
About Carolyn
Carolyn Pearson is the Founder and CEO of Maiden Voyage.
For more information, visit https://yogo.net/