As organisations invest in creating an inclusive workplace, travel managers are looking to reflect DE&I best practices within their travel programmes. Individuals may encounter travel risk situations due to their personal characteristics or the contexts within which they are travelling.
At Maiden Voyage, we create travel programmes that truly support everybody in your company.
By its very nature, a travel programme that treats all travellers the same is the antithesis of an inclusive travel programme.
To be effective, a travel safety programme must have elements of personalisation. Small adjustments to travel safety can make a huge difference to the mental and physical wellbeing of your business travellers.
Our research shows that diverse travellers face a wide range of risks.
These might include women travelling to destinations which are culturally diverse and so have to adhere to local laws or dress codes, women travelling whilst pregnant to areas impacted by the Zika Virus, or menopausal women suffering from side effects such as chronic fatigue.
Today, over 70 countries still criminalise same-sex acts, while some countries still operate the death sentence for anyone found guilty of homosexuality. The transgender community faces further challenges still due to global inconsistencies in gender identity documentation, carrying hormone medication and being subjected to inappropriate airport pat-downs.
Travellers from various ethnicities regularly encounter discrimination and excessive screening at airports and by airline staff.
And many traveller assistance programmes fail to meet the needs of passengers travelling with a disability. Breakdowns in passenger assistance programmes can be undignifying to anyone left without their pre-booked wheelchair assistance. Some hotels still fail to provide a flashing fire alarm for deaf guests, which puts their lives at risk. While, neuro-diverse travellers often become overwhelmed by the hubbub of a busy airport or when navigating unfamiliar territory.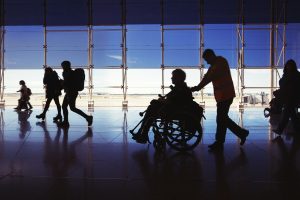 Many travel managers find themselves wondering how to get started. At Maiden Voyage, we're often asked for advice on what you can include within travel policies to cater for women,  LGBTQ+ travellers or those with disabilities.
To help, we have outlined several simple steps below to make your travel programme more inclusive.
However, we believe that the travel policy is not the place to make these changes. Travel policies are long documents typically read once, if at all, by employees, usually early on in their employment. Employee's circumstances and characteristics can change over time. By calling out some minority groups in a policy document, others may be forgotten.
Here we recommend a 10-point approach to make your travel programme fully inclusive:
Poll your business travellers. Take a 'temperature check' to understand your employees' business travel challenges. Dig deep, ask open questions and collect diversity data. However, keep responses anonymous to protect individual privacy. You want to collect specifics related to gender, sexual orientation, health and disability, age, and race to help make improvements in your travel programmes. Offer multiple-choice responses as nobody is one-dimensional.
Engage with your Employee Resource Groups and diversity networks. Learn about the people they represent and their unique travel needs or concerns. Consider running travel safety deep-dives and focus groups. Adopt a 'never about us without us' approach, and allow different minority groups to tell you what they need, rather than you designing for them.
Audit current travel safety information resources. Source and share all relevant content such as the ILGA map on state-sponsored homophobia and a list of countries where the zika virus is prevalent.  https://www.gov.uk/guidance/zika-virus-country-specific-risk#atoz  At the same time, make this content widely available for all employees without the need for logging in or providing personal data. This avoids anyone having to give information about their personal circumstances.
Conduct pre-travel risk assessments for all trips. These should be a combination of generic risks such as hotel fires or road traffic accidents, as well as some personal ones. Even relatively safe, local destinations could be complex for certain demographics. Aim to build flexibility for travellers rather than create rigid policies so you can meet everybody's unique needs.
Respect employees' right to privacy. It's not OK to ask employees about personal issues such as sexuality or health matters. Instead, ask these two 'magic questions'

Are you comfortable and feel able to take this trip?
What adjustments can we make to better support you on this trip?

Allow employees to opt out of a trip. Provide a confidential 'no justification, no travel policy' which allows employees to decline a trip without having to justify their reasons why.
Provide engaging pre-travel safety training.  Travel safety training should incorporate specific diversity elements and be available for everybody. Whilst we all know how to navigate life as our authentic selves, educating our colleagues, managers and those who could become allies is priceless. This in turn helps to mitigate otherwise dangerous and risky situations. Training material should be engaging and not too long. Consider using rich media such as animation and videos. Work with travel professionals and safety experts who have a deep understanding of the diverse travel risk landscape.
Use inventive ways to engage business travellers. The travel safety landscape is constantly evolving due to world events and changes in global legislation, so business travellers must keep up to date with the latest advice. Provide inventive ways to give your business travellers access to resources, perhaps through creating apps and alerts or adding links to booking information.
Collect post-trip feedback. Develop an easy post-travel feedback mechanism that goes far deeper than a travel survey. Educate suppliers from your travel programmes who don't reflect your DE&I values or policies or who have put your travellers at avoidable risk, or remove them altogether.
Repeat! Make this process a continuous loop of learning and improvement, and make sure all new employees get the information as soon as they join your organisation.
At Maiden Voyage, we can help you on your inclusive travel journey. From simply auditing your current processes to providing engaging traveller safety training resources or doing all the heavy lifting for you, we can support you or build your entire inclusive traveller programme from the ground up.
Talk to us now about where you are on your journey. We're here to help with all your travel safety needs.