When you think of flight-wear, it's easy to let your mind wander to aspirational territories. For example, the idea of jet-set fashion can conjure the image of a silk headscarf, paparazzi-shielding sunglasses, a sleek sheath dress and a pair of stilettos.
Yet, this sort of aviation attire is certainly not always realistic for the modern businesswoman. Similarly, the female business traveller can't don a casual maxi and sandals like her fellow flyers. She may be headed to cooler climates, have to consider the religious customs of her destination, or may simply have to head straight to a conference or meeting upon landing.
Fashion maven Carolina Herrera argues that well-put together outfits can positively impact your travelling experience, stating "if you dress up at the airport you will actually be taken care of perfectly. You'll be the one who the stewards look after the most." Therefore, the best flyer fashion mediates the two ends of the spectrum and matches style and propriety. When dressing for a flight, you have to be mindful of your destination, your personal safety, and of course, the importance of dressing in an elegant, empowering manner.
Here at Maiden Voyage, we're putting together top tips to consider when planning your wardrobe.
1 – When Packing, Ask Yourself What You Will be Doing When You Get Off the Plane.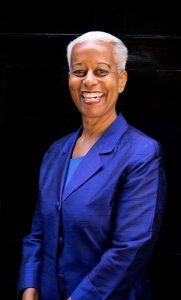 In our interview with Maggie Semple, CEO of Semple, she talks about the importance of practicality when planning a travel wardrobe, saying, 'the first question I ask myself, whenever I have to travel anywhere is, when I arrive, what will I need to do? Will I need to get off the plane and straight into a meeting?'
In short, don't forget the importance of dressing for the occasion from even the point of packing your case. You may wish to ask yourself whether you will have to go straight from the airport to a business meeting, or whether you will have time to change at the hotel. If the former, your outfit will have to work for flying while also being business appropriate. Your clothing will have to mediate the cooler temperatures of the plane and airport, and also the potentially hot temperature of your destination. In such case, we advocate cover-up items such as pashminas for added warmth, but also to take the place of a headscarf should you need to cover your head in adherence to religious customs. Although it may be inappropriate to don the cultural costume, there may specific instances where particular religious garments such as an abaya or a hijab will be required.
By contrast, it is also crucial that you be mindful to not overtly express your religion in certain contexts. Namely, it may be a risk to wear a cross or crucifix in non-Christian countries. There is more about religious dress code further down this article.
During the packing process, it will be prudent to make sure you have at least one pair of flat shoes in your carry-on luggage. Simply, if you're rushing straight to a meeting, you'd have to consider footwear that you can move easily in.
Other packing considerations include being mindful of luggage that identifies your sexual orientation or even displays the rainbow flag. Unfortunately, there are many parts of the world in which it is unsafe to be out as a member of the LGBT+ community, and it is paramount that you stay safe above all else.
2 – Bring pieces that you can take off and on as to accommodate a shift in temperatures.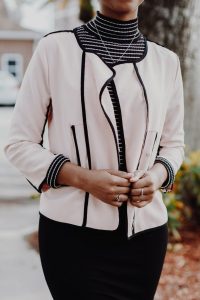 This tip is a given, layering is essential given the cooler temperatures of both airports and planes. But bear in mind that that wearing more thin layers rather than fewer thick layers will effectively keep you warm. This is because the spaces in between the layers will trap an insulating pocket of warm air. In such case, we recommend flying with at least a pashmina, particularly as it can be styled to resemble a headscarf should you be travelling to somewhere with certain requirements when it comes to religious attire. This brings us to our next tip…
3 – Be mindful of the religious conventions of your destination.
International travel requires mindful consideration of the religious customs of your destination. Simply, when conducting business abroad, it is an expected courtesy to dress in accordance with any state religions.
What to Wear in a Buddhist Country
Although the following rules only strictly apply in a Buddhist Temple, when dressing for business you would want to err on the side of conservatism, and so, can't go wrong when sticking to these following guidelines in a Buddhist country. Primarily, you would opt for trousers or shorts that fall below the knee, rather than skirts and short dresses. You will also cover your arms, wearing long-sleeves shirts, and ensure not to expose your midriff in any way. Although many locals are mindful of visitors dressing for the heat and humidity of Asia, many Buddhist countries prioritize propriety and will appreciate you adhering to these measures in a business setting.
What to Wear in Catholic and Christian Countries
Whilst many Western Catholic or Christian countries enforce fairly lenient rules on dress code, even in a business setting, but they can be stricter in some European countries. This is also a good reason to wear the pashminas that we've suggested you bring.  For instance, should you wish to visit a church or cathedral, not only are the temperatures generally cooler, but some will require women to cover their hair – where the versatile pashmina comes in handy. This is certainly the case in Russian Orthodox churches. Similarly, should you be travelling to Rome, it's been known that some women have been turned away from the Vatican because they wore strapless tops or short skirts, despite conducting business in a café or one of the many cultural sights.
What to Wear in Jewish Countries
Although Israel is a fairly liberal destination, even for business occasions, travelling to Jerusalem carries many geopolitical considerations, and it pays to err on the side of caution. To play it safe, when travelling to Jerusalem, wear shirts that cover the shoulders or a cardigan, and smart close-toed shoes. If you also wish to visit a Synagogue, the smart dress code you'd be sticking to for any business would also apply.
What to Wear in Hindu Countries
Hindu countries, or loosely speaking, Nepal, India and Mauritius, are all incredibly hot and humid, making it tempting to want to wear very loose clothing, in a light fabric such as linen. In such case, it may be a good idea to source a linen trouser suit, or long-sleeved blouse and light trousers that would make business travel more manageable. In terms of religious etiquette, the only real concerns come should you be visiting a Hindu Temple itself, but it should be known that the rules of entering are similar to a Mosque. Namely, you will be required to take your shoes off at the door and you may find that many of the local women cover up their hair as well. Although it's difficult to enforce, you may also wish to note that women are forbidden from entering Hindu temples if they are menstruating.
Dress Codes for Different Muslim Countries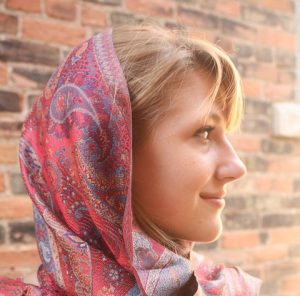 While there are essential rules to follow whichever Muslim country you visit, yet customs will vary depending on the place that you're travelling to. Overall, Islamic dress codes will require women to wear a headscarf, a long skirt, or loose trousers, and a long-sleeved tunic or coat that reaches the knee. However, in Dubai, westerners can dress as they wish when at resorts but wear modest clothing when out in public. If, however, you're travelling to Iran, then it is imperative, and a legal requirement to wear a long coat/tunic over your regular clothes to cover your head with a scarf.
Ultimately, modesty is paramount, loose, light pieces are practical. Maggie Semple describes her decision to wear trousers for any long-haul flight when saying, 'I'll wear trousers, soft trousers, they could be a mixture of silk and linen, just to give them some structure, and they may crease little but not too much.' If you pack one extra item, make sure it's a pashmina or headscarf, as to mediate any instances in which you have to cover your head. If you only pack one extra item, make sure it's a scarf for covering your head or shoulders as the need arises. In Islamic countries, if you're seen to respect customs and norms, you'll find that the respect is reciprocated.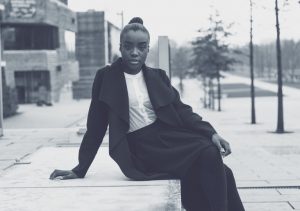 It is always important to consider how you dress before you fly, and how you will be perceived from the moment you land. Ultimately, despite the notion of travelling inspiring a feeling of jet-set glam, you'd be better playing it safe. Linen or silk trousers, light layers and pashminas are always recommended and allow you to accommodate both changes in climate and the religious customs of your destination.