It's not all business, and after a long week we all deserve a little R&R. So if you're lucky enough to find yourself in London, and you have your beloved pooch with you, we have something extra special for you to do this weekend… how about a spot of (doggy) afternoon tea?
The Egerton House Hotel is already a certified female-friendly hotel (and a Maiden Voyage favourite!) so it seemed only fitting that we send our London ambassador, Yvonne Reay-Scott, and her pug Poppy to try the mouthwatering pet-friendly menu.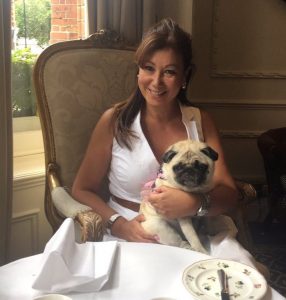 As the London Ambassador for Maiden Voyage, I am often asked to recommend venues to our members.  When the Red Carnation  Hotels Group invited me to bring my pug, Poppy to try a dog-friendly Afternoon Tea at their Egerton House Hotel in Knightsbridge, I jumped at the chance.  It was the perfect little treat to share with my canine companion and the location couldn't be better: on the doorstep of Harrods, the  perfect shopping pit-stop.  The power of a good cup of tea and cake is timeless, and being able to enjoy it with my dog, who is very much a member of our family, is marvellous.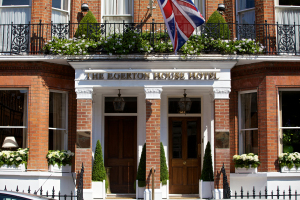 Exterior
The hotel has an intimate, quaint, quintessentially English feel and we were made to feel so very welcome on arrival.  Poppy was delighted with the VIP welcome she received on arrival in reception and the warm greeting from the waiting staff in the drawing room where afternoon tea was being served.
I took a traditional English Afternoon Tea and was offered a wide selection of teas and herbal infusions.  The afternoon tea finger sandwiches, scones and cakes were presented elegantly on tripod stands and a similar tripod for the doggy tea offering.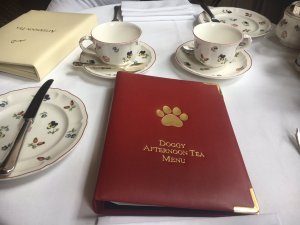 Poppy enjoyed a feast of homemade chicken and beef meatloaf, biscuits and delicious banana and carrot ice-cream which I was delighted to note was gluten free (in common with many other dogs, Poppy is gluten intolerant).  The waiter looking after us even dabbed her "ice-cream moustache" off  with a napkin – how's that for 5-star service!  Offerings on both stands were wonderfully fresh and delicious and so very beautifully presented – almost too pretty  to eat!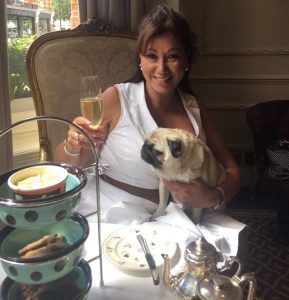 So if you are in the area or fancy a little trip out with your four-legged friend – do go along and try this out for yourselves.  I have given it a 5 star rating: excellent value and service, and delightful food in a divinely elegant setting.
I guarantee you will have a beau-TEA-ful experience!
Would you and your dog love a trip out for afternoon tea? To find out more about Doggy Afternoon Tea, as well as other pet-friendly services Egerton House Hotel offers, click here.
Don't have a pooch to pamper? That's not a problem! Check out the range of afternoon teas on offer. We guarantee there will be one for you! Click here to choose your ideal afternoon tea.
Check out our review of a night at the Egerton House Hotel: read it here.