Hotel: Egerton House Hotel
Location: Situated equidistant between Knightsbridge and South Kensington on a quiet residential street of commanding Victorian properties. The hotel is just a few minutes' walk from Harrods, The Victoria and Albert and the Natural History Museum.
Highlights: If you are looking for so much more than just a bed for the night, perhaps your London 'home from home', the Egerton House Hotel, is ideally suited to the female business traveller. Under the expert management of Michelle Devlin, the Egerton House Hotel forms part of the family-owned Red Carnation Group, noted for its quality, service and beautifully appointed, homely properties.
Popular with discerning leisure and business travellers alike, Egerton House provides a discreet yet friendly environment in which to work, entertain your guests or take a delicious seasonal afternoon tea.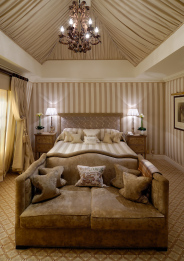 Each of the rooms have been individually designed by founder Beatrice Tollman so to make the most of your stay, make sure you have enough time to enjoy the comfort of your room. We've all stayed in a hotel that doesn't match up to what we are used to at home but those extra little touches like a Nespresso machine, Jing Teas, handmade biscuits, a fruit platter, fresh flowers, complimentary water, a stack of glossy magazines, divinely soft linen, and a generous supply of Penhaligon's toiletries are thoughtfully provided to make you want for nothing.
The piece de résistance for me however is the discrete and charming Martini Bar, popular with the locals and guests alike. The hotel comes alive in the evening as many come to sample an exciting array of gin and vodka based Martinis. Be warned! The portions are as generous as they are delicious so whilst working your way through the menu could be quite dangerous, at least you won't have a long way to stumble to your cosy bedroom and one of the best turndown services in London.
Dinner is a somewhat semi-casual affair taken in the lounge and bar, and there's an extensive menu. Guests can enjoy a range of dishes, including a classic Sirloin Steak, Wagyu Burger or, as a lighter option perhaps, Bea's own recipe chicken soup. If none of these options tickle your fancy, then do as I did, and build your own custom salad from a long list of ingredients. The service is warm and friendly and you are invited to linger and enjoy the surroundings and the team genuinely love to get to know their guests.
Why Go: Free WiFi, the best Martinis in Knightsbridge and location, location, location!
Need to know: Food is served in the hotel lounge and bar. There is no separate restaurant.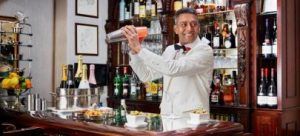 Maiden-voyage.com offer: Quote Promotion Code 'MaidenVoyage' to enjoy a room upgrade (subject to availability), welcome drink and breakfast and complimentary wifi, early check in and late check out (subject to availability). Click here to book.
Insider Info: Do check-in early and don't make plans to go out in the evening; a stay at the Egerton House Hotel is worth taking the time to enjoy.