At last, the INNSiDE by Melia Manchester has reopened to the public and was, in fact, our first hotel stay experience since COVID-19 locked us out of our favourite hotels. We were keen to get back to feeding our travel-loving souls and curious to understand what the COVID-19 era hotel experience would be like. In a nutshell, we wanted a cool city break experience, and we wanted to feel ultra-safe.
The COVID-19 measures had been well thought out and, whilst permeating every aspect of our stay, it was reassuring rather than intrusive. At check-in, guests are informed that face coverings are required to be worn in all the public areas, perspex screens at reception protect the guest and the staff, and there are hand-gel stations located liberally throughout the hotel. All staff not behind the screens are wearing face-masks or visors.
The lift occupancy is limited to two guests, and there is a one-way system in place throughout the hotel. Whilst all non-essential items and soft-furnishings have been removed from the hotel rooms to protect the guests, the rooms at INNSiDE Manchester are contemporary. Therefore, they can stand the more minimalist look without feeling sparse helped, of course, by the floor to ceiling windows from which you can take in the Manchester skyline. Tip: you might want to bring your own robe and slippers for the foreseeable future and, of course, a brolly – it is Manchester after all!
The team at INNSiDE Manchester has clearly worked hard to restore the home from home experience whilst making all the necessary adjustments to keep their guests safe. Gorgeous new furnishing and soft lighting have been added to ensure that public spaces can still be enjoyed, albeit at a distance. Thankfully one can still indulge in a cocktail or two (the Espresso Martinis are to die for) and candlelit dinner in the Hideout Lounge and Grill. Here, you can choose from small plates or larger traditional dishes, which include plant-based options and some northern treats, including Bury Black Pudding and a 'Naughty Manchester Tart'.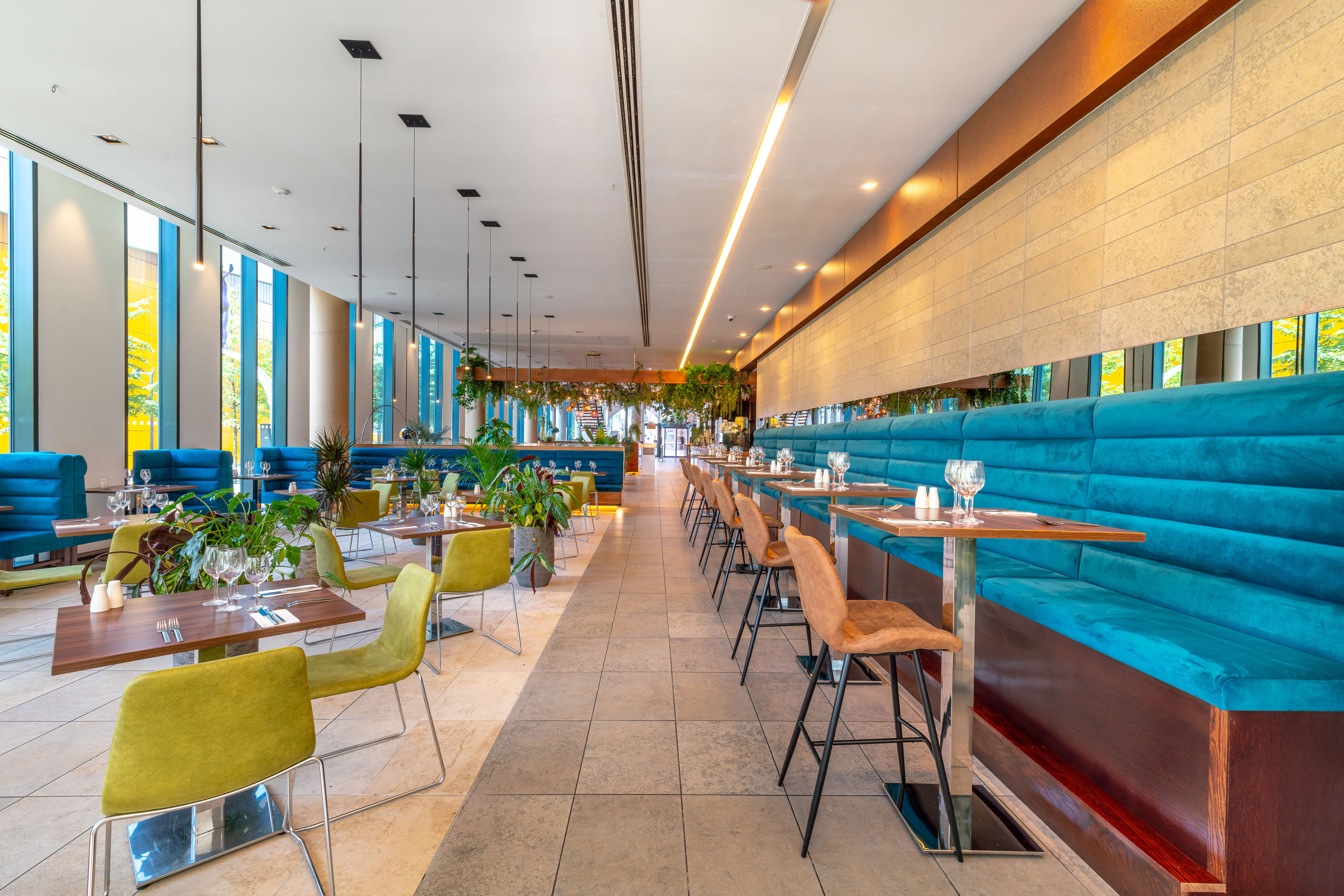 For those not wanting the full dining experience, contactless room-service is available through a nifty QR code system.
The buffet breakfast area has been modified into a sumptuous a la carte dining experience with some extra safety measures in place, such as sterile packaged cutlery and disposable paper menus. Firm favourites such as smashed avocado and poached egg with chilli flakes on soda bread were there to welcome us back, but when in Manchester, you must try the Manc Muffin; bacon and a perfectly runny fried egg on a muffin with tangy Lancashire cheese. We hope it won't be too long until the infamous DJ returns with his chilled breakfast vibes.
For those keen to keep up with their fitness regime, the gym is open to guests on a pre-booked basis. Safety measures include a limit of four guests per session, equipment cleaned between sessions and non-essentials, and hand weights have been removed again for guest safety.
All in all, it was simply wonderful to back out travelling again. There was plenty of space to spread about and avoid contact with other guests, and the staff are incredibly respectful of the social distancing rules whilst still remaining warm, friendly, and hospitable. What we were looking for was pampering, and safety in equal measures, and INNSiDE Manchester got that just right.
Book your stay at INNSiDE Manchester today for a safe and secure business trip.